Headlines create Trends.

Update your Business with all-in-one Trend Management System HeadlineHunter.
Automatic Monitoring, Reporting and Distribution of Latest Trends.
Customized & Powered by Generative AI.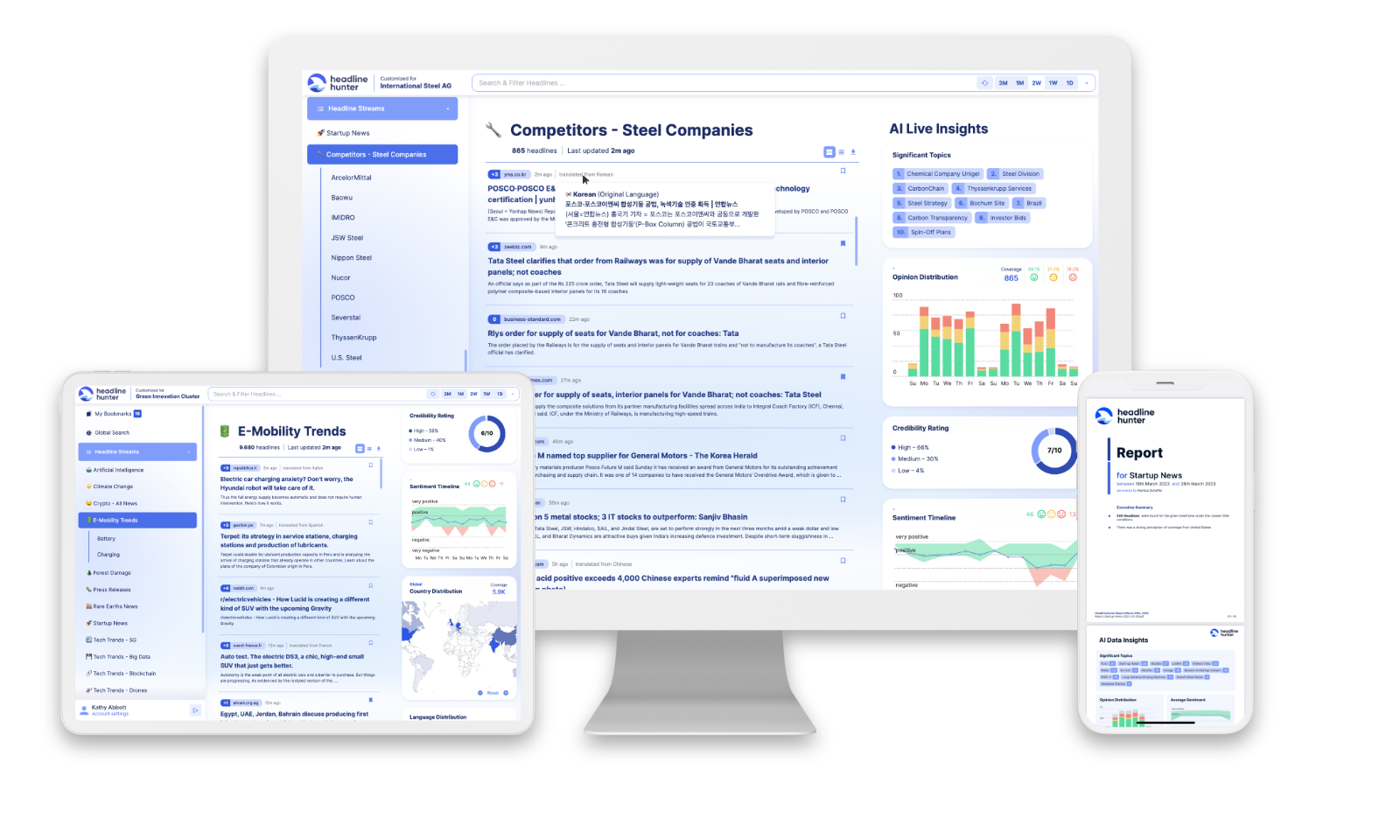 Quality News every Week

2M+

Countries covered

190+

Translated Languages

100+
How It Works
All-in-one Trend Management for you.
Right this second, there is probably something published on the Internet that will impact your business. Use HeadlineHunter to automatically find it, analyze it and distribute it.
Automatic Search
Get the latest News & Trends automatically
Custom Headline Streams provide you with the right information at the right time

Catch global trends in real time - language-independent with AI Global Search

Easily accessible via intuitive web dashboard
Automatic Insights
Read hidden Trends behind millions of Headlines in seconds
AI Live Insights visualize & condense relevant information in real time

Highest level of automation through latest generative AI

Objectivity & controllability through in-house developed models & algorithms
Automatic Distribution
Become a News & Trend distributor yourself
Tailored PDF reports to share with management, partners or investors

Live export feeds for easy integration on your own website

Raw data export for professional data processing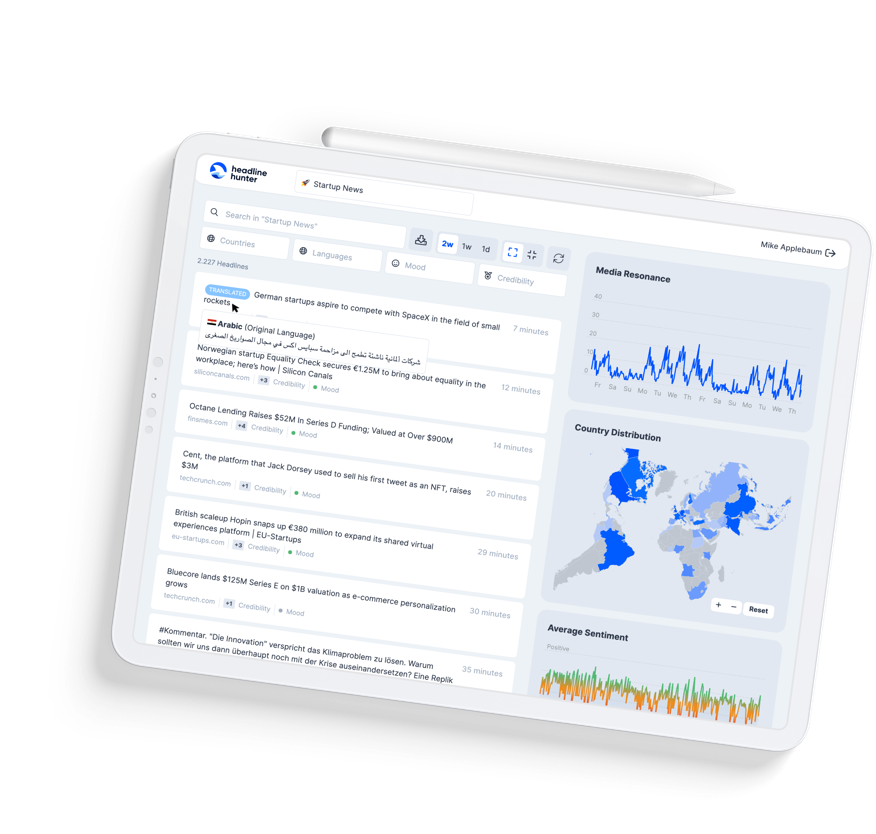 HeadlineHunter helps us to get a complete overview of the economic situation in our sphere. It is very easy to use and custom AI catches exactly the news we need. Live Export functionality enables us to distribute a custom news feed as a service to the visitors of our website.
As an industry cluster, we must constantly keep track of the activities and topics of our members. Custom Headline Streams provide us with the right information at the right time. HeadlineHunter's analytics and reports allow us to recognize the relevant trends, unbiased and in just a few seconds.
Direct Benefits for you
Global Overview
HeadlineHunter uniquely translates news. Never again deal with language boundaries. Just focus on information relevant for you.
Customization
Business information needs are individual. HeadlineHunter provides customizable news insights. Configure directly or we do it for you.
Real Time
HeadlineHunter is fast. Get real time news and information. Make informed decisions faster, be one step ahead.
Private Search
Your search belongs to you. No tracking. No profiling. No manipulation. We promise.
Usable Data
Look at data & insights the way you need. In the App. In PDF reports. As CSV. As RSS feed. We've the right solution for every situation.
Not Only AI
HeadlineHunter's AI enables huge benefits. But there is more. We added human data science. Our scientists are ready to listen to you.
Looking for
Features

? We've got a lot of them!

HeadlineHunter comes packed with a bunch of convenient, powerful and highly intuitive features. And be assured: Our feature list is constantly expanding. Stay tuned.
Sentiment Score
Whether positive, negative or neutral: Our custom, high accuracy algorithm automatically provides a news sentiment analysis.
Credibility Rating
Is a source reliable? HeadlineHunter has the answer to source credibility! Thanks to the AI Credibility Rating.
PDF Reports
Want business information to go? Here it comes! Easily generate customized PDF Reports.
Smart Search
Create powerful custom keyword searches including wildcards in a remarkable simple interface.
RSS Live Export
Data exports must not be static. Create live news feeds to integrate into your website.
Bookmark Lists
Never forget important news. Easily manage personal bookmark lists and share them live via RSS.
AI Filters
We don't create any filter bubbles. It is up to you to filter by language, topic, country, sentiment and more.
RAW Data Export
This is for all the data experts. Download RAW Data for further individual pro data processing.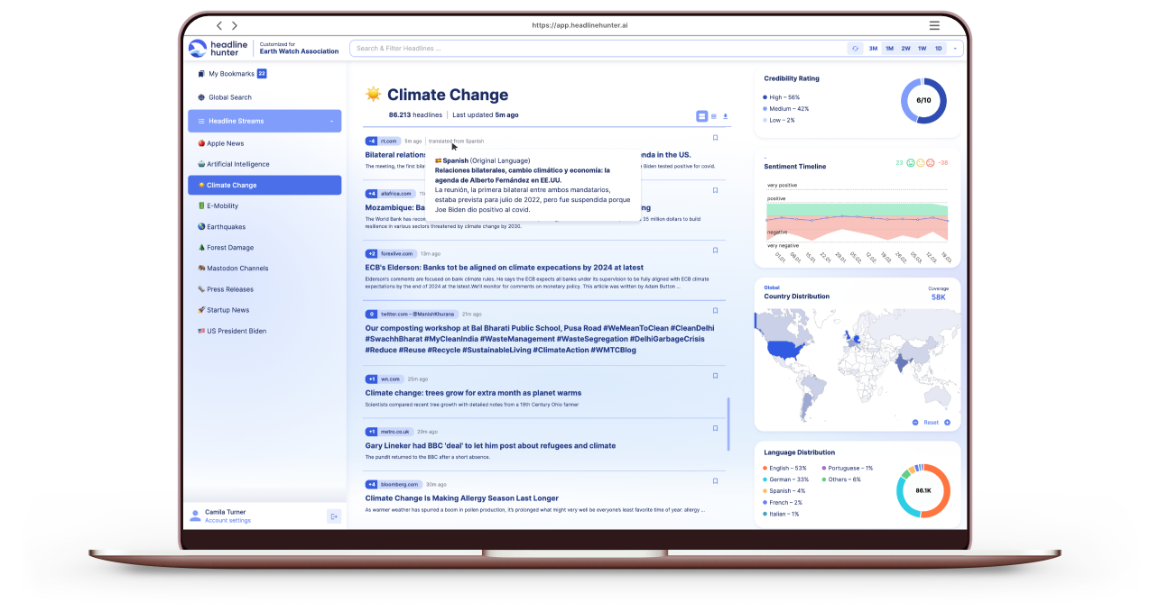 Innovations
Three Award Winning Technologies.
Built for your Needs.
Awarded by Carinthian Research and Innovation Price 2022 & TD|IKT Research Price 2022.
AI Global Search
Find the Unfindable.
AI Global Search monitors countless online sources & social media in more than 100 languages and translates every headline into English. E.g. if a Chinese, Russian, Spanish or other-language source publishes something that matches your interest, you can find and understand it immediately.
Headline Streams
Out-inform Competition.
Custom Headline Streams enable continuous news monitoring of specific topics that matter for your business. Our AI extracts relevant information out of millions of latest news data. This ensures that you never miss important information and you don't have to deal with annoying keyword searches.
AI Live Insights
Decide greater.
AI Live Insights will enrich your decision process in a way never seen before. The intuitive HeadlineHunter Web Dashboard lets you easily access appropriate real-time analytics, including convincing visualizations. Improve your decisions at a glance thanks to automated Credibility Rating, Sentiment Score and powerful filters.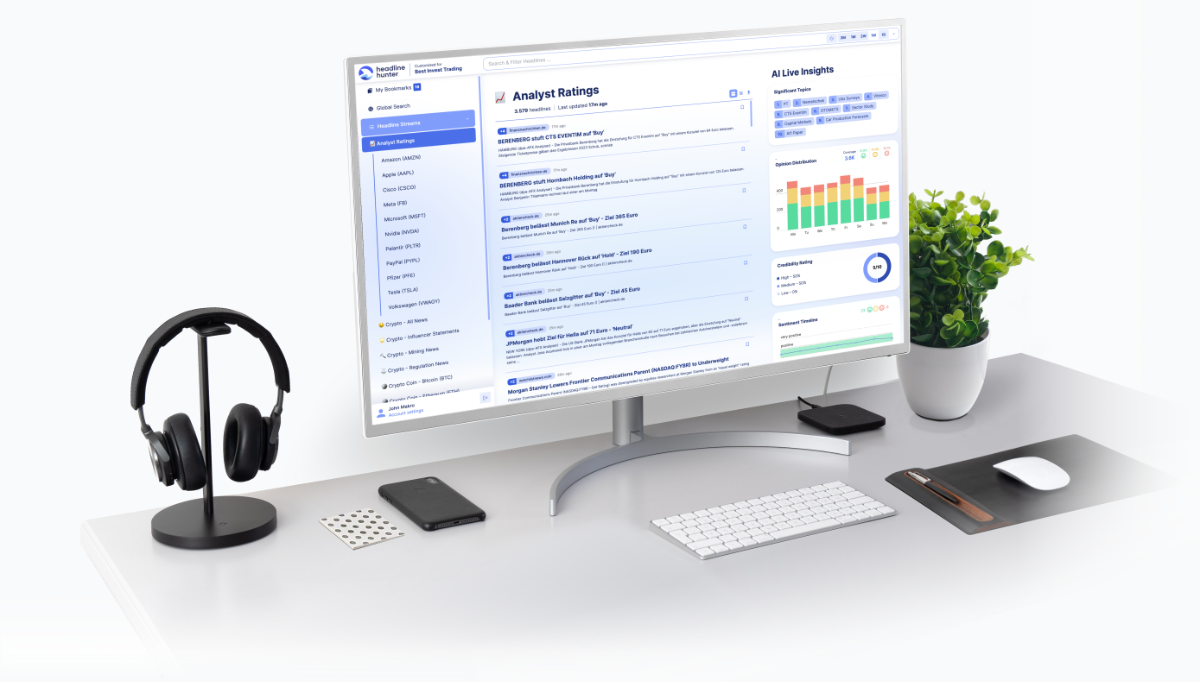 Success Stories
What do we love to catch, analyze & share?
The Stories of our Customers!
HeadlineHunter was designed for flexibility. Learn how our customers are catching, analyzing and sharing the trends behind all the latest news that matters to their businesses.
Carinthian Economic Fund
KWF
catches

Trends of regional Economy

As a leading economic development institution, for KWF it is essential to maintain a detailed and real-time overview of the regional and even the supra-regional economic situation. To keep track of relevant publications in hundreds of news sources, a manual process is not only nearly impossible, but at least extremely time-consuming, expensive and slow.

HeadlineHunter does it better. Custom Headline Streams deliver exactly the latest information that is needed - automatically and in real-time. Reports for further analysis of current topics like business openings or bankruptcies are generated in seconds. And thanks to Live News functionality KWF can distribute the latest interesting news directly to their visitors on its website. These benefits enable KWF to ...
🔄

... automatically stay up to date

✍️

... never again deal with manual research

📈

... share economic reports with decision makers

👀

... provide a cutting-edge news service to website visitors
This truly is an all-in-one news management! And it could also be set up for your institution in record time. Are you interested?
"HeadlineHunter enables us to gain huge benefits from external data. It is very easy to use and custom AI provides us exactly with the news we need."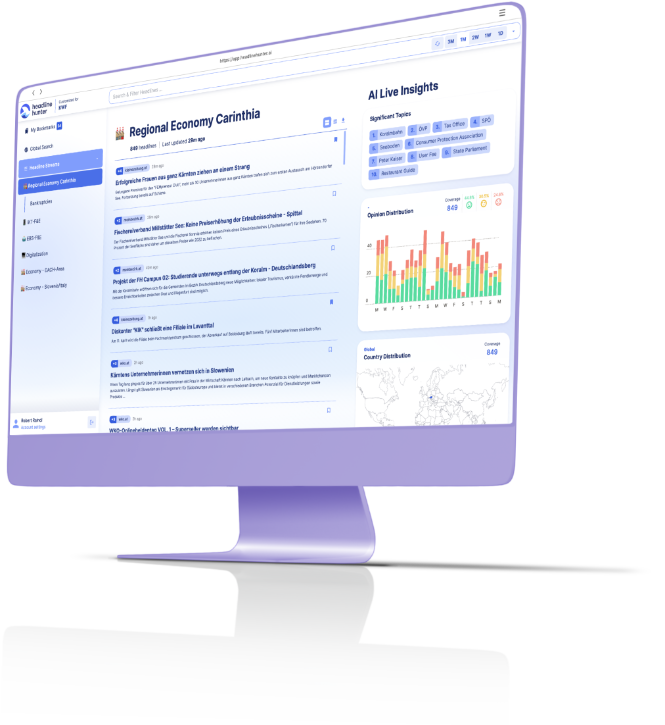 Silicon Alps Cluster
SAC
analyzes

latest Technology Trends

For industry clusters, especially in innovation-driven domains, it is obligatory to keep track of all the latest developments in their area of influence. So it is for Silicon Alps Cluster, which main objective is to be the information leader in terms of latest international electronics and semiconductor trends. But how to achieve this despite limited time and human resources? With HeadlineHunter!

Our AI delivers exactly what SAC needs - automatically and affordable. Customized reports with trend data analytics extract the long term developments and the hidden champions out of the global news coverage. This enables SAC to ...
📊

... stay informed about trends live and unbiased

⏳️

... save a lot of time and personal resources

⚠️

... exactly know which topics matter for cluster members

🚀

... be the information leader in very dynamic domains
This truly is a cluster digitalization of the future! And it could also be set up for your institution in record time. Are you interested?
"As an industry cluster, we must constantly keep track of the activities and topics of our members. Custom Headline Streams provide us with the right information at the right time. HeadlineHunter's analytics and reports allow us to recognize the relevant trends unbiased in just a few seconds."
build! Incubator
build!
shares

Trends of global Startup Scene

As a regional startup accelerator, for build! incubator it is not only very important to know what happens in the startup scene, but also to act as an information provider for their network. So, in line with their digitization strategy, build! incubator asked itself how the existing media clipping strategy could be automated, while also integrating an innovative way of distributing latest startup news on their website.

HeadlineHunter had the answer! Custom Headline Streams deliver the relevant information automatically. And the integration of our Live Export feature on build! website helps to get rid of boring newsletters and month-old blog posts. This enables build! to ...
⚡

... dynamify their website with a custom Live News ticker

📈

... get more page impressions

👋🏻

... generate recurring visitors

🕸️

... stay informed about what happens in their network
This truly is an innovative way for build! to become a professional news provider. And it could also be set up for your institution in record time.
"Live News added significant value to our website. Page attention grew because now we provide real dynamic content in the Startup domain."
Ready to Catch, Analyze & Share?
Book a Demo 🗓️
Tell us your wishes & a comfortable time slot and our team will be there for you.
Frequently Asked Questions
Can't find the answer you're looking for? Reach out to our customer support team.
What are the requirements for using HeadlineHunter?

HeadlineHunter is a responsive web application and can be used on any web-enabled device - no matter if it is PC, Mac, Smartphone or Tablet. You just need a modern browser like Chrome, Safari, Firefox or Edge.

What about pricing?

HeadlineHunter is highly customizable. When it comes to customizing, we offer different plans which are adaptive to match our customers' needs. To learn more about pricing for your use case, please contact our sales team and we will provide you with further information.

How is the translation thing working? Can I search news in dozens of languages just with English search terms?

Short answer: Yes! Search in English, find and immediately read results in more than 80 languages all over the world. That's unique.

In which countries is HeadlineHunter available?

HeadlineHunter is available all over the world.

Can my organization use multiple HeadlineHunter accounts?

Yes, of course! We even offer discounts for large organizations, which need a higher number of accounts for multiple departments.

Where are all the data processed?

Our data processing completely happens in data centers inside the European Union. Nothing leaves our highly secured servers and absolutely no data is handed over to third parties such as Google, Facebook or other companies.

Where are you getting all the data from?

Our self-developed and very advanced data acquisition technology catches the latest information directly at the source. So, we are not dependent on any third-party data providers and can ensure that no important information is manipulated or filtered out by others. And of course, you can always reach the original source by clicking on a result.

What about sources that are currently not covered?

We have a very high and constantly expanding source coverage all over the world. Additionally, for individual needs, we can easily add sources that may not have been included yet.